You've survived the hordes of shoppers battling for the last…deeply discounted something we won't remember next year.
If you're ready to start thinking about a little present for yourself, THE EX will be out January 26 in the US and February 2 in the UK. If my publisher would let me, I'd send everyone on the mailing list a free copy, but they tell me that's not how they run a business.
But as a tiny gesture of my gratitude,I do have a small gift for those of you who show early support for the book by pre-ordering a copy.
See the pretty keychain? (I'm allowed to say it's awesome because I have nothing to do with the outsides of the book.) I'd like to send you one!
To claim your nifty trinket, just pre-order a copy of THE EX from your favorite retailer by January 26, and then, for each copy purchased, fill out this handy dandy form* by February 7th. And because some gifts are bigger than others, I'll also pick three names at random to win signed copies of the entire Ellie Hatcher series (five books, y'all!).
Want to know about the insides? Well, it all starts when New York City criminal defense attorney Olivia Randall gets a phone call telling her that her former fiance is in trouble. Not like he was rude to the wrong person kind of trouble, but SERIOUS trouble–arrested for a triple homicide.
How far would you go to help an ex? Turns out Olivia would go pretty far, and then more things happen.
That's my elevator pitch. (I should probably practice before the book comes out, huh?) Fortunately, I can quote other people who have good things to say about THE EX:
"With an all-too-real mass shooting in a richly-observed Manhattan as its springboard, The Ex is an expertly crafted, intricately woven novel that is as emotionally complex as it is riveting." –Kimberly McCreight, New York Times bestselling author of Reconstructing Amelia and Where They Found Her
THE EX is "intriguing, suspenseful, compelling, insightful, surprising, and thoroughly satisfying. A great read." –Chris Pavone, New York Times bestselling author of The Expats and The Accident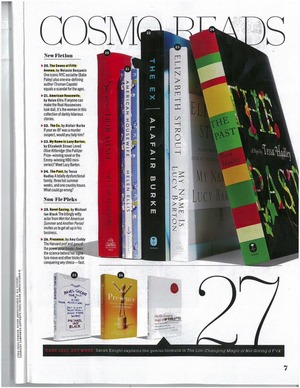 THE EX is "gripping" with "an appealingly bold protagonist…Burke keeps the suspense high throughout, prying open mysteries of relationships and perception." –Publishers Weekly
THE EX "features smooth, engaging writing; a sharp, funny edge; and characters worth investing in. Burke has created some memorable female protagonists over the years, but Olivia might be the cream of the crop." –Kirkus
Plus Cosmopolitan named THE EX one of the best winter Cosmo Reads!
In the meantime, I'm working on the next Hatcher novel. So far, she's still alive. (I'm kidding! Actually, I'm not kidding, but you know what I mean.)
Happy holidays, and happy reading!
Via: Alafair Burke