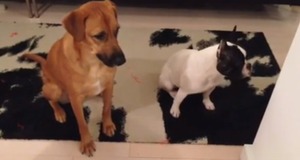 For our Christmas present (only one of many, we hope), the lady who feeds us (known to you as Alafair Burke) let us take over her blog. Oh, and "us" means Frannie and Double Double and Frannie (correction by Double). And since you are friends with the lady, you already know who we are. Some people call us "her" dogs, but we don't see the need for spec-ist labels.
Anyhoo, we were thankful this year to have found each other. Even though we were both cool chillin' on our own, we are totally boss as a combo since Frannie moved to NYC from Anguilla in April. We plan ways to sneak on the sofa when no one is looking, wrestle 24/7, and absolutely rule at doggy daycare. Proving our mad mutual respect, we even recognize each other's food boundaries. (Click on this adorable VIDEO for proof of how good we are. We hope to go viral and be famous.)
What else, what else? Oh, we are also proud of the lady who feeds us for publishing TWO books in ONE year during 2014. It's the first time she has ever done that, and we think it's because she now has the two of us. ALL DAY AND A NIGHT is the fifth in her Ellie Hatcher series. And THE CINDERELLA MURDER is co-authored with Queen of Suspense Mary Higgins Clark. MHC called us adorable, so we really love her.
Now, the real reason we wanted to take over the newsletter. We have outfits! Don't we look amazing?! One step further in our efforts to be famous. (Note from Frannie: Double is the only one who wants elaborate wardrobes and notoriety. I prefer to be naked and unknown.)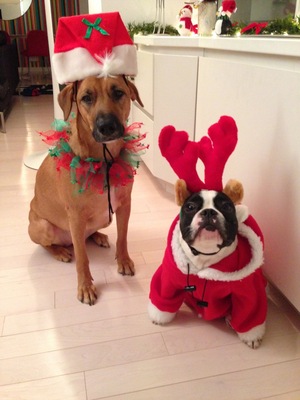 Finally, we promised Alafair that we would wish you a happy, healthy, celebratory holiday season. And to tell you how much she appreciates your support throughout the year.
Love,
Double and Frannie (and Alafair)
Via: Alafair Burke