I am a better writer today than I was in 1999 when I started my first book, Judgment Calls.
I make that observation neither to apologize for my debut novel nor to boast about my current abilities. In my humble and biased opinion, Judgment Calls is a good book. I'd say PW and Booklist were probably about right in describing it "a solid first effort" and a "promising debut," respectively. (Proving that reviews can be scattered, The Rocky Mountain News may have been overly generous in comparing it to the "best of the genre," while The UK's Guardian was undoubtedly harsh in dubbing it their "Turkey of the Year.") And though I say I'm a better writer now than I was when I wrote that book, I know I can still develop further in my craft.
But the objective fact remains that I am better today than I was then. So, therefore, are my books. In fact, after just finishing my seventh novel, I can say (and I think my readers would agree) that each novel — without exception — has improved upon its predecessors. I chalk the advancements up to hard work and confidence. I try to write every single day, challenging myself to be better with each session. And with each book, I have been more willing to trust my instincts, experiment with form, and follow my characters on their journey.
It turns out I am not the only writer who believes she has improved with age.
Last night, I had the pleasure of attending a Q&A with Lisa Unger at The Mysterious Bookshop in Manhattan about her new book, Fragile. I asked her whether she viewed her earlier books, published before she was married under her maiden name Lisa Miscione, as part of the same body of work, or whether she preferred the later Lisa Unger novels to be treated as works by a different author.
I found her response to be such a wonderful description of how many of us might feel about our development as artists. She expressed a sincere pride in her early books and made clear that she was not one of those writers who seek to distance themselves from certain books through the use of another name. But she also noted that she started her first book, Angel Fire, when she was nineteen years old. She tries to become a better writer everyday (I obviously liked that part). And, interestingly, she said that readers who picked up Angel Fire and Fragile would not recognize them as having been written by the same person because she was not the same as she was as a nineteen-year-old.
Harlan Coben recently found a different way of expressing a similar observation about his own work. When his first novel, Play Dead, was re-released, he wrote the following note for the front of the book: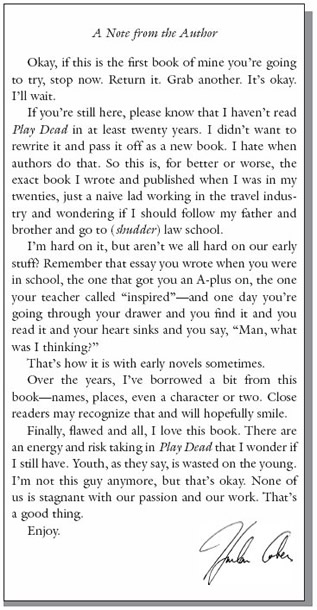 If you ever doubted Harlan's ability to be humble and funny, you probably don't anymore.
The writers I most admire aren't the ones who shoot out of the gate with a shattering debut that subsequent books just never quite measure up to. They're the ones — like Lisa and Harlan and Laura Lippman and Michael Connelly and Dennis Lehane and Lee Child and Karin Slaughter– who keep rolling out bigger and better books, delving deeping into their own souls to find fresh material year after year after year.
But there's one question that I'm asked multiple times a week that must give pause to any writer who believes she's improved with every book: Which of your books should I read first?
In some ways, there's really no better question to find waiting in your e-mail or on your Facebook page. It means a new reader has found you. Someone has heard about you from a friend or has finally seen your name enough times to be interested in your work. Woot!
The downside to the question is you've got to answer it. And what's the right answer, particularly if you write a series? No matter how hard you've tried (as I do) to make each book work as a standalone, most genre readers like to proceed in order. On the other hand, if you've become a better writer with each book, you might know (as I do) that, as proud as you are of that first novel, it's not as good as the last. So, for me at least, there is no short answer.
What I want to tell people is to read in order, but to expect each book to get better and better, and to stick with me through the end. But that sounds simultaneously boastful and apologetic. It also assumes a new reader is going to devote herself to your entire oeuvre. So instead I say each book can be read alone, referring readers to the chronological list on my website.
I have to admit that when asked that impossible question, I wonder whether it would be better to be one of those people who torpedoed out of the gate only to come to a slow limp in later books. And when I say "better," obviously I don't mean better. I guess I mean something like luckier. No, I mean easier.
To explain what I mean, let me invoke some television shows as examples, since I love me some TV. I absolutely loved Desperate Housewives and Ugly Betty at the get-go. Great characters. Great hook. Pulled me right in. And then, you know, stuff happened. Silly stuff. Lame stuff. But I was already invested, so I didn't stop watching. Other shows — shows like Friday Night Lights and, as I've been told at least, True Blood and Mad Men — had impressive enough starts but then blossomed into some of the best series on the tube.
Creatively, of course you'd rather be the creator of the higher quality material. But commercially? An early peak can be pretty sticky as far as an audience is concerned. If my first book had been my best, it would be so easy to tell new readers to start there. Start with that first, awesome book, fall in love with the characters, and then stick with me even as I phone it in. See how easy that would be?
But I don't want writing to be easy. I don't want to phone it in. I'm incredibly proud of the fact — yes, fact — that I've written seven books in about a decade, each being better than the previous. I hope to write twenty more in the next two decades and be able to say I'm still a better writer every day.
But, my God, that trajectory sure does make it difficult to answer that damn question: Which of your books should I read first?
So what do y'all think? If I writer's early books are good but not as great as the later ones, how do you hook a new reader in? How do you talk about your body of work without apologizing for or distancing yourself from those early books?
If you enjoyed this post, please follow me on Facebook, Twitter, and/or my newsletter.