I've really enjoyed seeing where my fellow Murderati bloggers work, so now it's my turn to welcome you into the physical space of my work world. We have a two-bedroom apartment in New York City, one of the few American cities where designated square footage for a home office is considered a luxury. When I walk in, I am greeted by a photograph that my agent commissioned of a pretty cool full-page New York Times ad that Harper ran for my fifth novel, Angel's Tip. Photographs don't yellow like newspaper. Smart agent.
One wall of the office is lined with storage.
Turning to the next photo, my Eames chair makes me very happy. I used to have a crappy one I bought at Costco until Lee Child persuaded me that I needed to buy myself better stuff. (He's a pretty good Persuader. Ba-dump-bump.)
I also really like my desk. In theory, all that junk on top should be on the pull-out surface, so it gets hidden away when closed, but, well, that's just not what happens. Sadly, that is actually pretty clean for me. If you can see exposed wood, it's clean. The state of my office usually reflects how busy I am. Five weeks ago, there was not a single inch of clear surface to be found. Four weeks ago, after I finished my new book, it was incredibly tidy. Now I'm working on edits, and once again, some mess is accumulating.
Beneath those photos of my husband juggling, you'll see a bulletin board I bought last summer with grand ideas of storyboarding. Note that it contains only three note cards and a newspaper clipping. On the note cards I listed character and place names. The newspaper clipping's about a Minnesota court decision ruling that dirty bong water constituted an illegal drug. A storyboarder I am not.
Remember how I said I cleaned my office a few weeks ago? Well, cleaning for me usually means getting rid of stuff. Or at least building a huge pile of things that I need to get rid of. Still. All these weeks later. Can someone please call the Goodwill truck for me?
This is probably my favorite thing one might find in my office, Duffer enjoying the one and only sunbeam.
Here's a couch I had in my home office back when I had a house. I rarely sit on it but see no reason to get rid of it either. That's my little laptop on its stand, but it rarely gets used anymore at home since I got an iPad.
From my desk, I look south over Greenwich Village. I hate the people who live across the street for ruining my simple view with that ridiculous geo-dome-y thingey mcbopper. They also have colored Christmas lights around the terrace year-round. Classy.
Now that you've seen my home office, I should say that lately I seem to be most productive away from home. At the end of summer, I nestled myself away in Portland's West Hills and wrote a TON in ten short days. Sans husband, sans dog, sans all responsibility, I found incredible energy and focus. Try it sometime.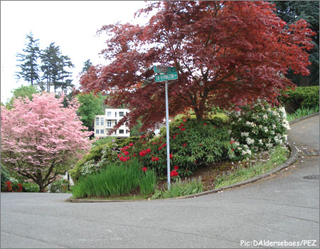 In the city, as I've previously mentioned, I often walk down to Otto (a Mario Batali pizzeria and wine bar) with my laptop. Good wine. Tasty food. No internet signal.
You can see from the guest name on this check that I'm a regular. My bartender friend, Dennis, even made a cameo appearance in the last Ellie Hatcher novel, 212.
The wonderful thing about writing is that we can work anywhere. We can set our hours. We can travel. We can scribble sentences on airplanes and in coffee shops if we need to. We do what works for us. The only thing that matters is the writing.