Remember high school Year Book Awards? Most Likely to Succeed? Best Dresser? Most likely to raise the biggest pig? (Hey, I went to high school in Kansas!)
Well, I think crime fiction characters need these kinds of very, very serious awards. So for the entire month of June, my website will host the first annual Duffer Awards. Each day will feature two beloved crime fiction characters, matched head-to-head for very, very serious award categories like Most Likely to Win a Hot Dog Eating Contest and Odd Couples Most Likely to Win on Amazing Race.
And very serious awards need very serious award statues. Duffer, as you probably know, is my very serious dog.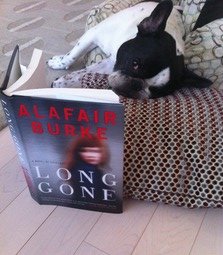 Here is a Duffer Award. (Notice that his body is NOT an Oscar Award because that would undoubtedly be some kind of trademark infringement, and Duffer is much too serious to get caught in that kind of scandal.)
We started the Duffer Awards on June 1. (See how I used "we"? Like "we" are a major operation with accountants tallying votes and whatnot? We are very serious.)
Here are the awards we've decided so far (winners in bold):
1. Most Likely to Marry His Ex-Wife
Mickey Haller (Michael Connelly) v. Jesse Stone (Robert B. Parker)

2. Most Likely to Sacrifice an Arm a la 127 Hours
Serge Storms (Tim Dorsey) v. Gretchen Lowell (Chelsea Cain)

3. Most Likely to Make a 15-mile Detour for Good Junk Food
Tess Monaghan (Laura Lippman) v. Kinsey Milhone (Sue Grafton)
4. Best Manners
Maisie Dobbs (Jacqueline Winspear) v. Inspector Lynley (Elizabeth George)
5. Most Badass Sidekick
Bubba Rogowski (Dennis Lehane) v. Clinton "Skink" Tyree (Carl Hiaasen)


Today at the website, you can vote on Best Hat: Raylan Givens (Elmore Leonard) v. Walt Longmire (Craig Allen Johnson). Post a comment beneath your vote, and you'll automatically be entered to win weekly prizes including signed copies of my books and $50 gift certificates to your favorite bookseller. The more you comment, the more you're entered to win.
Coming later in the month are 24 additional very serious awards for very serious things like Best Shoes, Ability to Travel the Globe in Two Pages or Less, Most Likely to Crash a Server on Match.com, and Most Likely to Get Away With It. Click here and start voting today. And I hope the Murderati will visit the Duffers every day in June to vote on a new award. (And perhaps help spread the word. This should be fun for anyone who reads crime fiction!)
The Best Two Bucks You Can Spend
In other June-only news, ANGEL'S TIP is available in the US as a $1.99 e-book. This special edition also includes an essay from me about the real-life stories that inspired ANGEL'S TIP, as well as the first three chapters of my new book, LONG GONE.
If the idea behind this low price is to hook new readers, I feel a bit like a drug dealer handing out free samples on the playground. But if you have been at all entertained by my posts here, this is a way to check out the novels for less than a cup of coffee.
Here are the links to buy for Kindle, Nook, and the Sony Reader. Okay, I feel a little dirty now. And not in a good way.
Now for Comments: Help me get an early start on next summer's Duffer Awards. What are some very, very serious awards for crime fiction characters, and which two characters would make a good head-to-head match for the award?