This has been a joyous week for me, thanks to a visit from one of my BFF's who recently left New York (boo!) for an academic position elsewhere. It has also been an active week. See, here's the thing about people who know and love New York, but who are limited to occasional visits: They have a tendency to pack a month's worth of their favorite routines into a single day. And, thanks to my friend's kamakaze fly-by, I had the pleasure of living one of those days.
We didn't set out to walk twenty miles. The morning began simply enough with a morning stroll with my french bullog, the Duffer.
We walked through the west village to the river up through the Meatpacking District, then back over through Chelsea to my place near Union Square. We picked up Starbucks and Bagel Bobs along the way. Stopped in Washington Square Park to snack.
But then we dropped off the Duffer and realized it was still only ten in the morning on what we'd sworn would be a true no-work day. Soon enough, my friend's friend happened to call. He needed someone to help carry a new art acquisition from a Chelsea Gallery to his loft in the fashion district. Off we went, back to Chelsea.
By the time we finished moving the canvas, it was time for lunch. Back to the Meatpacking District. Bloody mary and a dozen oysters outside = yummy. Pitstop to the Apple Store for my handy, dandy, and completely unnecessary iPad. Woot!
Next on the route was SoHo, requiring a stroll down from the Meatpacking District through the west village. In SoHo, we hit six different furniture stores, researching the perfect pull-out sofa. Turns out, there's no such thing.
Suddenly it was five-thirty. Back to the apartment for a quick shower before catching our Broadway play, Next Fall (marvelous, by the way). Small post-theater snack and glass of wine at the lovely Aureole. Subway back to Union Square. Still hungry. One a.m. stop at the late-night taco truck for corn tortillas and Horchata. By the time I checked my Bodybugg, we had logged just over twenty miles!
I went to bed exhausted. And really, really full. And incredibly inspired.
A few weeks ago, I wrote about my need to walk away from the keyboard and free my brain when I really need big-picture creative inspiration. Based on my near-marathon city walk, I now believe those walks away from the desk should always be through the city I now love and write about.
Among the various quotidian details, all inspired by my long walk, that you'll likely find scattered through my next novel:
The New York foodie's never-ending search for the best food trucks: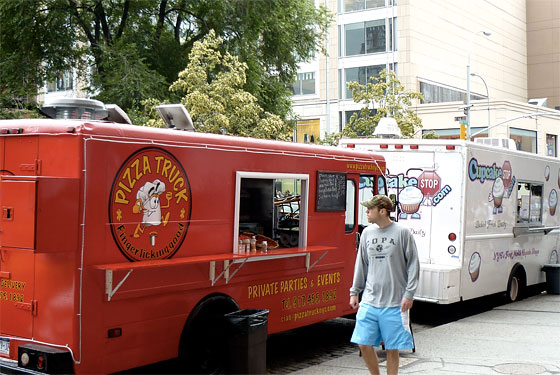 The chess-game culture of Washington Square Park:
The way a texting New York pedestrian will slam into another human being and then scream at that person for being in the way:
The Highline, an elevated park with a uniquely Manhattan blend of industrial chic and actual nature:
The Standard Hotel, whose floor-to-ceiling windows above the Highline have proven irrestible to exhibitionists:
And, not sure this will make the book, but I did learn that there is a chair called the "Do Hit Chair." Price: $8,000, or $15,000 if beaten by the actual artist. I'm not making that up.
Best of all, I somehow came home with a major plot point magically worked through. A day of friendship, a plot development, new energy about the urban landscape of my books, and three thousand calories burned to-boot. I'd say my hooky day turned out to be productive after all.
Has a play day ever turned into inspiration for you?