A man was driving late one night when he saw a young woman walking by the side of the road. Thinking that it wasn't safe for her to be out and alone so late on a lonely country road, he stopped and asked her if she needed a ride. She gratefully accepted. She told him she was trying to get home and gve him directions to her house. The driver tried to engage the girl in conversation, but she was strangely uncommunicative, telling him only that she wanted to go home.
When they arrived at the darkened house, the driver got out and walked around to the passenger side to open the door, thinking to walk her to her front door.
She was gone.
The puzzled driver walked up and knocked on the door, wondering if the girl had somehow managed to get out without him noticing. An old woman answered. When she saw the man standing there, she smiled sadly. "I know who you're looking for," she said. "And she's not here. She was my daughter. She was killed in a car wreck ten years ago on her way back from the prom. And every night on this date since, some man has come here, telling me that he picked her up by the side of the road. But she never makes it home."
***
Maco, North Carolina, lies along the line of the old Atlantic Coast Line Railroad. On a foggy, rainy night in 1867, a brakeman named Joe Baldwin was working the night train headed for Wilmington. By some mischance the caboose became uncoupled from the train and stranded on the tracks. Joe knew another train would be along soon and his duty was to try to stop it before it collided with the stranded caboose. He ran down the tracks, swinging his lantern.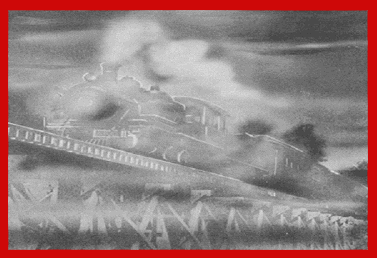 When he saw the lights of the train behind, he waved even more frantically. Unfortunately, the oncoming locomotive failed to see him in the fog. It struck poor Joe, killing him instantly.
Since that night, people walking along the tracks near Maco Station have reported a strange light appearing alng the tracks, moving from side to side. They say it's the ghost of Joe Baldwin, searching for his severed head.
***
In the early 19th century, in the town of Bath in Northeastern North Carolina, there lived a dissolute young man by the name of Jesse Elliot. Jesse loved to drink, gamble, and race Fury, his champion stallion. He'd never been beaten on that horse, and he swore he never would.
One Sunday, a stranger, all dressed in black, arrived in town on a huge black horse. He challenged Jesse to a race, and Jesse, already half drunk, agreed. Some of the other citizens of the town scolded him fotr drinking and racing on Sunday, but he laughed them off and had another drink.
The race began, the horses thundering down a nearby country lane. The stranger's horse kept up with Jesse's, then began to overtake him.
As they rounded the big oak tree that was the halfway point of the race, a spectator called out that it looked like Jesse was going to lose this one. "I'll ride this horse to victory or I'll ride him to Hell!" Jesse shouted back. At that moment, Fury pulled up suddenly, throwing Jesse against a nearby tree and killing him. The stranger pulled up beside Jesse's limp body, and for years, onlookers would shiver as they described his chilling laugh. Then he spurred his horse and rode away, never to be seen again in those parts.
To this day, you can still see a set of mysterious depressions in the ground near where Jesse died.
Nothing grows in them, and obects placed in them are gone the next day. In the 1940's, a newsreel cameraman named Earl Harrell came to Bath and performed an experiment. He filled the holes with dirt and leaves, then made a webwork of back thread over them. The next day, the thread was undisturbed, but the holes were empty. The locals debate whether the mysterious depressions are the hoofprints of Fury or of the great black stallion whose rider tempted Jesse to his death.
I hope you have a happy Hallowe'en this weekend! And please share your favorite ghost stories, from wherever you live.